Marc Riboud – 1995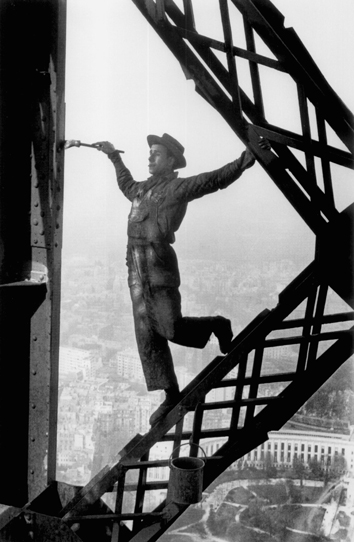 THE EUGENE R. OLSON ART GALLERY | Bethel College
MARC RIBOUD | September 5 – December 6, 1995
Marc Riboud's Photographs, Mostly Paris
Marc Riboud once observed that, in making his photographs, he felt "torn between the fear of getting too close to people and another force that egged me on to get a closer look."  The rich fruits born out of this creative tension are quickly tasted by the viewer standing before Riboud's works on exhibition in the Eugene Olson Gallery.  In them, we feel his reticence to intrude upon his subjects;   but we also experience his overcoming of reticence as his curiosity drives him to take a long and unabashed look.  Riboud's own place in French photography is at the intersection between photography as journalism and photography as art.  True to the tension inherent in this position, his images avoid mere aestheticism, yet are more than mere reporting.  As Claude Roy described it, in Riboud "we sense the excitement of a reporter and the stress of a photojournalist combined with the composure of a contemplative mind."
This uniting of the contemplative with the observation of fact, allows Riboud to discover the finest nuances in his subjects.  For example, one is struck in Confessions, Chartres, France, by the wonderful oddness of something as private as confession occurring so openly in a meadow.  Even more, one is struck by what might be implied in the young woman's confession, as she leans into the confessional screen, head turned away from us but towards the open space above where a young man strides across the meadow.
Riboud often blends such nuanced possibilities with humor, giving his subjects depth but saving them from taking themselves too seriously.  His evident delight in the fine points of human moments repeatedly satisfies us along these lines.  At the other end of life from the youthful confessor, for example, is the elderly woman in Luxembourg  Gardens, Paris, who reads a newspaper with a headline that asks, "Where is the ideal man?"  Beside her, her now-elderly man slumps into a deep and unidealized doze.  Or with a richer poignancy, Fountain, Vichy, France, evokes the nostalgia experienced when old age once again brushes up against the beautiful pleasures of youth.  We see an elderly, tottering couple at a fountain.  She, frail and aged, is just turning her back to the fountain.  Behind her, gracefully echoing her gesture, is a fountain sculpture of a youthful nude goddess.  The goddess's pale white marble color contrasts with the elderly woman's black dress, just as her youth and sensuality contrast with the woman's old age and dignity.  Yet clearly the goddess is also a memory of the elderly woman's earlier years.  In the meantime, the woman's equally wizened husband turns toward the goddess and drinks a glass of refreshing water from her fountain, almost as if in salute to memories.  Memories, the love of youth, and the mature love of old age blend together in a profound moment.  But Riboud cuts off the maudlin:  behind the old man a coat tree rises, curling upward as if an echo of some distant memory of male response.  This hilarious touch is typical of Riboud's ability to laugh, even while catching a glimpse of something deep in the midst of the ordinary.
Other works speak of less tender moments:  Liverpool  confronts us with a wall of somber longshoremen listening to a union leader during the winter strike of 1954;  Beijing  gives us peeks out onto the street conditions of China in 1965, when the West was only dimly aware of the suffering caused by China's Cultural Revolution;  and in Prayers in the Rub al Khali, Saudi Arabia,  an eerie fireball explodes on the horizon above an Arab man finishing his prayers.
Riboud's life work, of course, goes far beyond what can be seen in this exhibition.  He has photographed the Vietnam War (from both the Vietnamese and American sides), he photographed Watergate Hearings and Washington war protests.  His images roam from Washington to Cambodia, to Houston, Tokyo, France and more.  Born in l923, he has become a photographer of true international status.
Wayne L. Roosa
Art Historian