Deborah Butterfield – 1994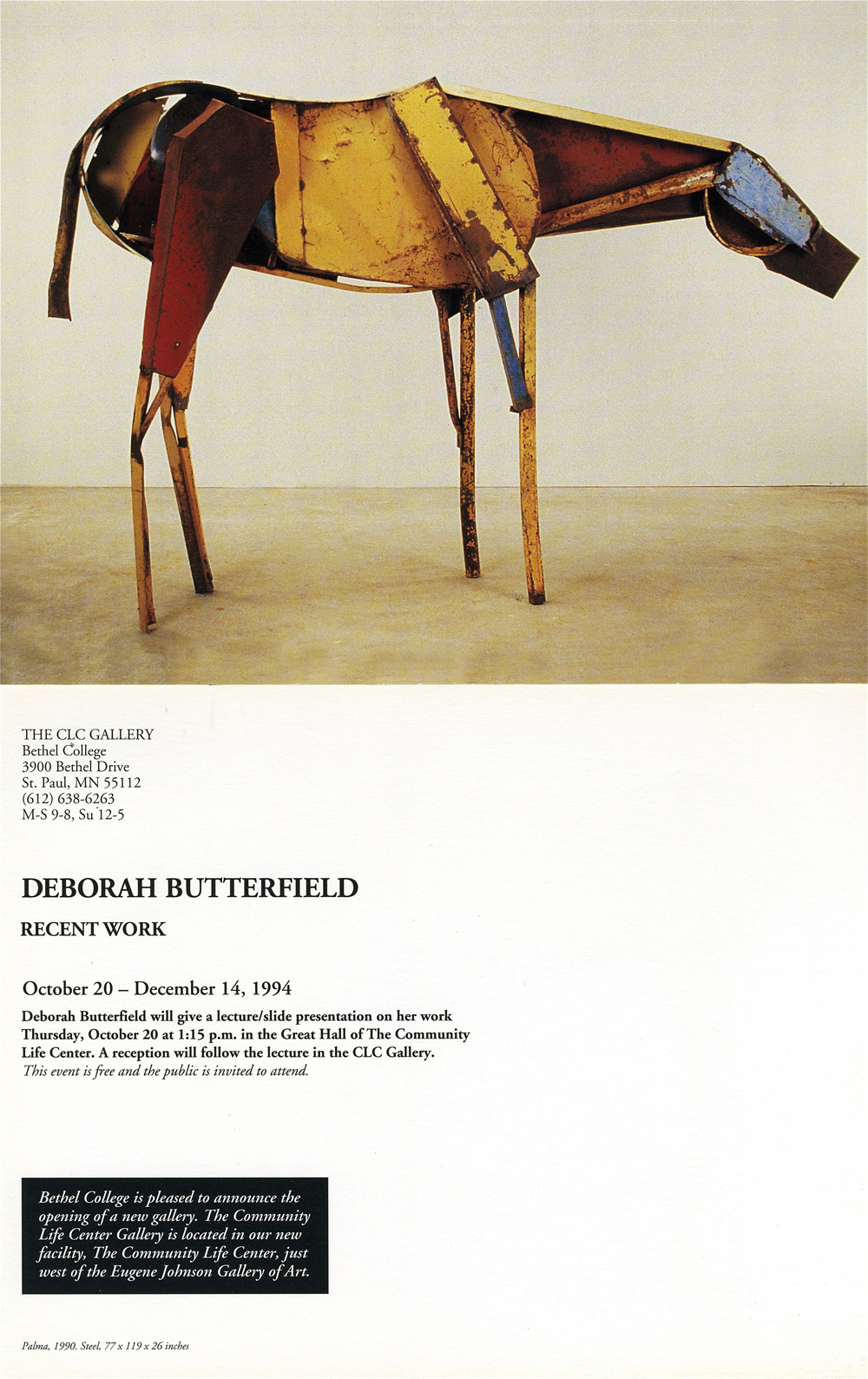 THE OLSON GALLERY | Bethel College
DEBORAH BUTTERFIELD | 1994
A Meditation on Deborah Butterfield's Sculpture
My first live encounter with Deborah Butterfield's sculpture was in Copley Square, in Boston.  On one side of that square is Richardson's Neo-Romanesque Trinity Church; on the other side, a shiny shopping mall and office complex.  Between those, closer to the mall than to the church, is a large brick circle, which serves as the approach to the mall.  On each side of this circle stands a Butterfield sculpture, "horses", as they are both wrongly and rightly called.  These equine forms turn their heads and look at each other across the open space, as crowds of business people and shoppers pass between them.  Although Western civilization almost literally rode into being on horseback, one is not sure how often a depth of recognition occurs.
These sculptures are, simultaneously, like ancient, noble archeological remains—skeletal and grand—and like sentient presences who live and experience life in an entirely different manner than all those humans scurrying past.  It is the juxtapositions of their silence, their timelessness, and their animal intelligence against our noisy, fashionable, "higher" intelligence, which is so striking.  Butterfield has said that she wants to "learn a different way of perceiving the world," wants to "talk about language with another species, which happens to be the horse, and perhaps to gain more and different information by…becoming empathetic to another creature."  And so she does.  Given their setting in Boston, it is the juxtaposition of two worlds—animal and humans, nature and urban, connected and fragmented—that is so compelling.
The two pieces currently in Bethel's CLC Gallery, Palma (1990) and Luna (1992) carry the same power of those works I first saw in Boston.  But in this more intimate setting, away from the crowds and with the light off the lake bathing over them, they bring another dimension: presence.  These works bear a "presence of being" that is richly layered and complex, even though apparently simple.  They are about the integrity of inner and outer being, of creaturely skeletal construction and industrial metal construction.  They are both open and closed.  Their presence has a powerful strength and scale, yet it allows a vulnerability through their openness and silence.  They are about accepting the process of living and aging, in the watchful, uncomplaining way that animals do—being bent and rusted, yet remaining utterly calm and dignified.  They bear a grace that is surprising, given the clumsiness of their material and size.
But most of all, they are about that kind of presence which suggests the connectedness of our creaturely beings.  The etymology of the word "art" means "to join."  In Butterfield.s pieces, one can sense the joining of art, abstract human thought, and the world of animals and nature (a world that we foolishly think we stand apart from.)  For me, there is a humility and spirituality here which is properly understated, and therefore, all the more nourishing.  In Deborah Butterfield's own words, "It's about faith, at one level, faith in your ability to connect with something: it seems as if it's holy to have a conversation.  To me, that's what being alive is about.  It's about a conversation or a dialogue."

Wayne L. Roosa, Art Historian
Bethel College