Warrington Colescott – 2007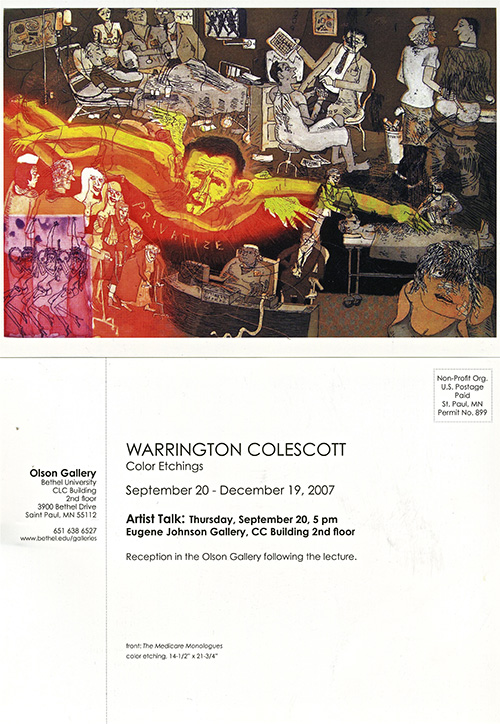 OLSON GALLERY | Bethel University
WARRINGTON COLESCOTT | Satiric Reflections: Color Etchings by Warrington Colescott
September 20 – December 19, 2007
Printmaking and satire have been friends for a long time in art's many histories. On the printmaking side this is because printmaking is not only a great Fine Art medium; it also has long been used for popular imagery, as well as for journalism. It is a visual language that speaks many dialects, both high and low. Add to this the fact that it also involves editions of multiple images made on paper, which makes prints easily available and more affordable to a wide range of viewers from Art Collectors to Museums to ordinary people to underground zines.
On Satire's side of things, there is the immense wisdom of using humor to expose folly, error, and corruption. Humor reveals with a lighter touch than direct confrontation. It is often the only instrument capable of penetrating the high self-seriousness of people in power or who are sure they know fully the only right way. And it is a great release for those without influence but who need a brief respite from oppression. The sociologist Peter Berger once wrote a brilliant essay asking why revolutionaries have no sense of humor. Martin Luther said the best defense against the devil was to mock him because a proud spirit cannot bear to be laughed at. It is a sign of mental and emotional health to be able to laugh at our own foibles. But the proud and the powerful cannot.
All of which has allowed printmaking to occupy a unique place in a unique zone, navigating between fine art and journalism, between beauty and social criticism. Goya made portraits for the King of Spain because his official job was court painter. But he also made biting yet hilarious prints that investigated the real paradoxes of human behavior in Los Caprichos. Hogarth painted the portraits of his wealthy English patrons. But then he made insightful and very funny print series about the debauched moral state of marriage and other institutions in the aristocracy of the British Empire. Daumier made paintings for the high-brow Salons of Paris; but he also made prints for the free press which sought to expose how cruel were the government's policies to the poor and working classes of France. When his editor, Charles Philipon, was put on trial because of Daumier's lithographs, his only defense was, "Can I help it if His Majesty's face is like a pear?" From Sixteenth Century artists such as Peter Breugel the Elder and Hans Holbein, to Twentieth Century Dadaists such as George Grosz and Hannah Hoch, the medium of printmaking has been the medium for exploring, exposing and celebrating the folly and caprice of human social behavior, often in necessary and excruciating detail.
Warrington Colescott's color etchings are in this tradition but of course they address the social, political, religious, racial, economic and even artistic dilemmas of our own society. From what Picasso did to printmaking to the Mardi Gras of New Orleans to the sweat shops of poverty stricken countries that sew American high fashion to the policies of Vice President Cheney and President Bush, or to the Last Judgment, Colescott asks, "What is going on here?" And "Why?" And "Who is complicit?"
Colescott is a true and mature master of the color etching process, to the point that he makes it look so effortless that we viewers are free to plunge into these images and search them for our culture's truths.
Wayne L. Roosa, Ph.D.
Art Historian, Bethel University